************************************************************************ ******************************* Francais ******************************* ************************************************************************
************************************************************************ ******************************* Francais ******************************* ************************************************************************
11th Annual Conference of the CEF
The Centre for Forest Research (CEF) is pleased to invite you to its 11th annual conference, which will be held 1 and 2 of May 2017 at UQAM. The conference is open to all partners of the CEF as well as the entire scientific community.
General program
Monday, May 1st 2017
Morning: Fun run, information, conference opening with introductory remarks. Presentations by new members.
Noon: Lunch (supplied) + Annual General Meeting of the Regular Members
Afternoon: Presentations (parallel sessions)
End of day: Happy Hour
Evening: Suppertime (free hour)
Tuesday, May 2nd 2017
Morning: Presentations (parallel sessions). Presentations by new members. Poster session.
Afternoon: Presentations (parallel sessions) and Séminaires des étudiants à la Maîtrise en gestion durable des écosystèmes forestiers
Noon: Lunch (supplied)
End of day: Awards and closing remarks around 17h00
Invited speaker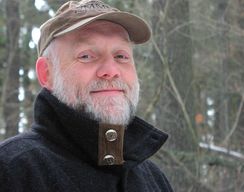 It is with great pleasure that we announce Klaus Puettmann

will be our Invited Speaker for this year's annual conference. Dr. Puettmann is a professor in the Department of Forest Ecosystems & Society Department at Oregon State University . His interests have focused on forest, wildlife, and landscape ecology as well as science of Conservation, Restoration, and Sustainable He co-authored the books A Critique of Silviculture : Managing for Complexity

and Managing Forests as Complex Adaptive Systems: Building Resilience to the Challenge of Global Change

with K. David Coates and Christian Messier.

At the opening conference, K. Puettmann will discuss :
Exploring "Adaptive Capacity": the story behind the buzzword
Abstract: Adaptive capacity is defined in a management context as "ability of ecosystems to respond to changes while providing desired ecosystem services" and is driven by resistance, resilience, and transformative processes. The presentation explores what can be learned when adaptive capacity is viewed in the context of various ecological concepts; specifically how complexity theory, panarchy, succession, invasion ecology, stability, and disturbance theories can be used to manage "transformations". My goal is to provide for a stimulating discussion about managing ecosystems for adaptive capacity as an option to prepare ecosystems for global change.

Registration & Costs
CFR members (regular, associate, masters or doctoral student, post-doc and professional): 50$
Others: $100
Registration is now open

. Please, have your credit card handy!!
Deadline for online registration: March 31, 2017.

Transport
Transport services (organized carpooling) will be coordinated for each CEF pole.
Contact the professional for your pole:
Lodging & Parking
No hotel is officially listed for the conference. For a non-exhaustive list, we refer you to the hotel and parking info at this link

Site plan
Restaurants
************************************************************************ ******************************* Francais ******************************* ************************************************************************
Call for Posters and Presentations
All CFR members are invited to present the results of their research as an oral presentation or poster. Only abstracts presenting results will be accepted for oral presentations. Submissions of CFR student and post-doctoral research projects that are well underway will be given priority by the selection committee.
Call for Posters and Presentations is over since January 29th, 2017. The abstract should be limited to between 250 and 300 words in the language in which you will be presenting (English or French). Abstracts not respecting these conditions will be refused. The abstracts cannot be modified after the submission deadline.
Specific instructions for poster - Posters should be set in PORTRAIT format with maximum dimensions of 36 inches wide by 48 inches tall (91.4 cm x 122 cm). Read the following article

in Nature to improve the quality of your poster.
Specific instructions for oral presentations - Oral presentations should be 15 minutes in length, followed by 5 minutes of questions. Slides should be in PDF or Microsoft PowerPoint format. Office 2010 will be installed on the computers. You can use previous versions of Office, if you do not have version 2010. If you have video or other animation, make sure that the presentation is compatible with Windows PC. Also, because we cannot guarantee access to the Internet, it is important that you save a copy of your presentation on a USB key. Therefore, cloud presentations (on the internet) must not be used (Prezi and others).
Finally, to ensure that the sessions run smoothly, NO internet connections will be permitted during the presentation. Mac users should ensure that they have a version of Office that is compatible with Windows PC.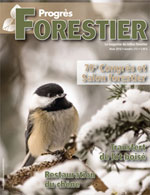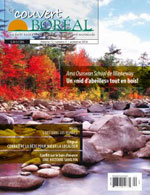 Competition
Best oral presentation
The magazine Couvert Boréal will offer a one-year subscription, and the opportunity of writing an article (vulgarisé), to the winner of the best STUDENT oral presentation (voted by the jury).
Editions Michel Quintin will offer a book of his collection « faune et flore »
The winner will also receive a cash prize of $300 from the CEF.
Best poster
The Forestry Association of Southern Quebec (L'Association forestière du sud du Québec, AFSQ ) will offer « Des feuillus nobles en Estrie et au Centre-du-Québec: guide de mise en valeur » and a one-year subscription to « Le progrès forestier », together with possibly writing an article for the magazine.
Canadian Institute of Forestry Orléans section, will offer a $100 prize, a one-year subscription to the Forestry Chronicle, and include the winner's photo and poster abstract in the "Section News" of the journal.
Door prizes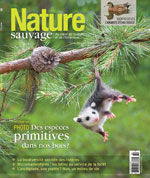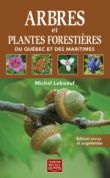 The prizes will be drawn from among the participants who are present at the conference. To be eligible, you must deposit your name badge in the draw box before the conference concludes. The draw will take place following the announcement of the winners for the best poster and best oral presentation, Tuesday, May 2nd, at 5:00 PM.
1st prize : The book « Arbres et plantes forestières du Québec et des Maritimes » by Michel Leboeuf
2nd prize : 1-year subscriptions to the magazine Nature Sauvage .
Wireless network access
Eduroam access - Normally, all CEF students who are already connected to the Eduroam wireless network at their own university should be able to connect to the UQAM network without additional configuration. If this is not the case, we recommend that you configure your laptop BEFORE coming to the conference using the instructions available on this page

. These instructions are provided by UQAM IT Services, but they should work regardless of which university you are coming from.

Partners
************************************************************************ ********************** Toutes les langues ****************************** ************************************************************************