Pictures are now available

Mycorhizes 2017
Dialogue entre les partenaires
Mai 10-11 - Centre d'étude de la forêt, Université Laval, Québec
The goal of this meeting is to feed the dialogue between partners from everywhere in order to improve knowledge on mycorrhizal symbioses. The Centre d'étude de la forêt (CEF) will host over a hundred of participants many of which will present their most recent research results. Conference and poster sessions will be organized around the themes of agriculture, biology and forestry.
Venue
Pavillon Paul Comtois, Auditorium 2105
Faculté des sciences de l'agriculture et de l'alimentation
2425, rue de l'Agriculture
Université Laval
Québec, G1V 0A6
Conference Call
Come present your results in Québec City. A unique opportunity to discuss with your colleagues about your research interests. Fill out the Poster and Oral presentation Submission Form before April, 21st 2017.
Welcome and Program
Welcome will be located in front of auditorium 2105 Wednesday may, 10th between 12h30 and 13h20.
Program
Oral Presentations: Wednesday May, 10th from 13h30 to 17h30.
Oral Presentations: Thursday May, 11th from 8h30 to 12h00 and from 13h30 to 17h30.
Poster Presentations all day beside the auditorium.
Accommodation
Rooms on the campus - Short-Term Accommodations from the Service des résidences de l'Université Laval

Single with private batrooms: 88$+tx
Single with shared batrooms: 46.50$+tx
Double with shared batrooms: 66$+tx.
Breakfast, Wifi and parking are included. Select "Mycorhizes 2017- Événement #267447" in the registration form. To get those special fees, reserve with this form

and select "Mycorhizes 2017- Événement #267447".
Registration and Payment
Price before May, 1st 2017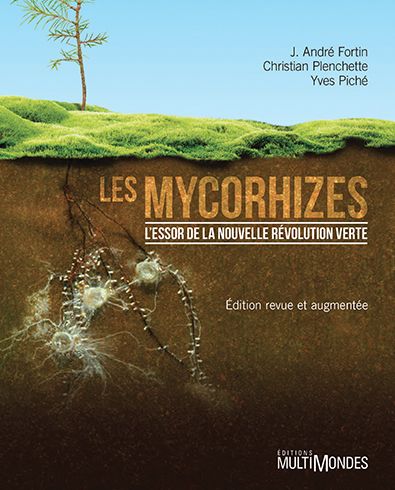 Students: 40$ taxes included
Other participants: 65$ taxes included
Price after May, 1st 2017
Students: 50$ taxes included
Other participants: 85$ taxes included
Registration fees include May, 11th lunch, pauses and the happy hour.
The 100th person registered at the Mycorhizes 2017 Symposium will receive a copy of the book Les mycorhizes: l'essor de la nouvelle révolution verte.
Registration and Payment Form


Program (subject to changes)
13h00
Accueil, inscriptions et installation des affiches
Pavillon Paul-Comtois de l'Université Laval
13h30
Mots de bienvenue
Pierre-Mathieu Charest , Vice-doyen aux études et secrétaire
de la Faculté des sciences de l'agriculture et de l'alimentation (FSAA)
David Pothier, Codirecteur du Centre d'étude de la forêt
13h40
J. André Fortin - Chercheur émérite au Centre d'étude de la forêt
Fertilité et nutrition des plantes: nouveaux paradigme
14h20
Bachir Iffis - Étudiant au doctorat à l'Université de Montréal
La biodiversité microbienne associée aux champignons mycorhiziens arbusculaires dans des sites hautement contaminés par des hydrocarbures pétroliers
14h50
Pause
15h20
Chantal Hamel - Chercheuse chez Agriculture et agroalimentaire Canada
Diversité fongique associée aux systèmes légumineuses à graines – blé dans la prairie semi-aride
15h50
Benoit Bérubé – Étudiant à la maîtrise à l'Université Laval

Impact à long terme du travail réduit et de l'application d'effluents d'élevage sur la biodiversité des champignons mycorhiziens à arbuscules dans un système de grandes cultures selon une approche métagénomique

16h20
Claude Samson – Directeur du développement du marché chez Premier Tech Agriculture

Les mycorhizes en Agriculture et expériences pratiques lors de l'utilisation de produits à base de mycorhizes

16h50
Session d'affiches et 5 à 7
08h00
Nouvelles inscriptions
08h30
Ouverture de la journée
08h40
Jacynthe Masse - Stagiaire postdoctorale à l'Université de Montréal
Does inoculation with introduced Rhizoglomus irregulare DAOM-197198 change AMF community structure in the field?
09h20
Mohammed Sghir Lamhamedi - Chercheur au ministère des Forêts, de la faune et des Parcs
Les ectomycorhizes dans les pépinières forestières au Québec : éléments historiques et effets sur la qualité morpho-physiologique des plants forestiers
09h50
Pause
10h20
Antony Destinoble - Étudiant à la maîtrise à l'Université Laval
Effet de la symbiose mycorhizienne arbusculaire sur la composition minérale du poireau cultivé en présence de carbonate de calcium
10h50
Soon-jae Lee – Étudiant au doctorat à l'Université de Montréal
Conserved proteins in RNA interference system of Arbuscular mycorrhizal fungi (AMF) provide new insight into the evolutionary history of glomeromycota
11h20
Pierre-Luc Chagnon – Chercheur à l'Université de Montréal

Mycorrhizal partner selection: do poorly informed decisions lead to forced weddings?

11h50
Diner
13h30
Christine Juge - Chercheuse
Mycorhizes appliquées au champs: revégétation minière et biofertilisation
14h00
Degi Harja Asmara - Étudiant au doctorat à l'Université Laval
Mycorrhizal network and their role in agroforestry systems and ecological restoration: An analytical framework
14h30
Jean-Baptiste Floc'h - Étudiant à la maîtrise à l'Université de Montréal
Le microbiome du canola, structure et variations
15h00
Pause
15h20
Christian Provençal - Étudiant à l'Université Laval
La défense des plantes cultivées mycorhizées face aux stress biotiques et abiotiques
15h50
J. André Fortin – Chercheur émérite au Centre d'étude de la forêt
Culture des champignons ectomycorhiziens comestibles
16h20
Atelier
Les mycorhizes : dialogue entre les partenaires
16h50
Mot de fermeture et remise des prix