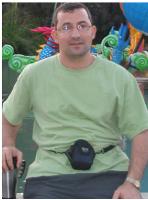 Emad AM. Farahat
Postdoctoral Fellow
Forest Ecology
Director: Martin J. Lechowicz
Permanent address:
Helwan University
Botany & Microbiology Department
Cairo-Egypt
(2) 012- 4783968 , (2) 02-5590000 ex. 1795
Present address:
McGill University, Department of Botany
Stewart Biology Building, 1205 Dr. Penfield
Montreal, QC, Canada, H3A1B1
Emails: Emad23_1999@yahoo.com or Emad.shaaban@mail.mcgill.ca
Training
Postdoctoral fellow in McGill University, Biology department, Evolution and Conservation Ecology Unit, 10/April/2007 – 09/January1/2008.
Lecturer of Plant Ecology, Faculty of Science, Botany & Microbiology Dept., Helwan University from 04/2006- 04/2007.
Ph.D. in Community Ecology, 09/2001-02/2006. Botany & Microbiology Dept, Faculty of Science, Helwan University.
MSC Fellowship in Plant Ecophysiology. Botany & Microbiology Dept, Faculty of Science, Helwan University: 01/1997 –01/2001.
B.Sc. in Botany department, 1991-1995 (Faculty of Science - Cairo University).
Present Research Activities
I am working now with Prof. Martin Lechowicz in McGill University in three topics in forest ecology include:
Tree death and recovery ten years after the 1998 ice storm
Impact of quarry dust on Hemlock growth
Comparative eco-physiology of beech saplings.
I am looking for further co-operation with any Canadian Ecologist or Ecophysiologist to continue my research in forest ecology.
Research Interests and Experience
Artificial forests
Population and community ecology of terrestrial and wetland vegetation
Plant competition and allelopathy
Experienced in plant quantitative anatomy and eco-physiological analysis of plant, soil, water and air samples (MSC experience)
Experienced in population biology and vegetation analysis using Multivariate methods (Ph.D. experience)
Equipment
I am acquiring good experience, through my Postdoctoral fellowship in McGill University, with photosynthetic Infrared Gas Analyzer (IRGA) and Eye-Fish photography and its related software. Moreover, I have a lot of experience with the most common lab. and field instruments.