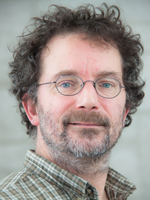 Frédéric Raulier (1965 - 2019)
Ancien membre régulier
Aménagement forestier
Université Laval
Faculté de foresterie et de géomatique
Département des sciences du bois et de la forêt




Google Scholar

(:pagemenu style="width:180px; background-color:#e8f4dd;border-left: 3px solid #990000;":)
(:endpagemenu:)
M. Frédéric Raulier est décédé à l'Institut universitaire de cardiologie et de pneumologie de Québec, le 18 avril 2019, à l'âge de 53 ans.
FORMATION
Postdoctorat en Écophysiologie forestière, 1999 (Centre de foresterie des Laurentides)
Ph.D. en Foresterie, 1997 (Université Laval)
B.Sc. en Agronomie, 1989 (Faculté Universitaire des Sciences Agronomiques de Gembloux, Belgique)
THÈMES DE RECHERCHE
Mes activités de recherche se centrent sur la planification stratégique des activités en forêt et visent à y intégrer des notions issues de l'écologie fonctionnelle (compréhension des processus). L'élaboration de stratégies d'aménagement requiert également des sauts d'échelle spatio-temporels qui impliquent la prise en compte du risque (le futur est incertain), de la variabilité (notre connaissance du territoire est partielle) et de l'ignorance (nos modèles n'arrivent pas à tout maîtriser).
RÉALISATIONS RÉCENTES
La productivité forestière est corrélée avec des variables de portée régionale ou continentale comme le climat, mais aussi avec des variables locales qui changent spatialement, ce qui affecte la sensibilité de la productivité des forêts au climat. Le régime de perturbation en place et la succession secondaire qui s'en suit ont également un impact très important sur la productivité. La productivité forestière explique en partie la localisation de la limite nordique des forêts commerciales au Québec. Cette variabilité spatio-temporelle de la productivité peut avoir un effet important sur le niveau de récolte de bois en forêt, surtout lorsque la forêt aménagée est vulnérable aux perturbations (faible productivité, problèmes de régénération).
PUBLICATIONS
Livres
Chapitres de livre
Raulier, F., Leduc, A., Roy, R., Vaillancourt, M.-A. (2009) Aménagement de la forêt. (Chap. 15) In Manuel de foresterie, 2e éd. (Ordre des ingénieurs forestiers du Québec, Eds.) Québec, Éditions Multimondes, pages 649-676
Livres, numéros spéciaux et actes de colloques publiés à titre d'éditeur
Articles révisés par un comité de lecture
Articles publiés dans des actes de colloque (proceedings)
Ung, C.-H., Lambert, M.-C., Raulier, F. (2005) Estimating forest boimass using scale linkage from tree to Landsat TM reflectance data. In Proceedings of SPIE - The International Society for Optical Engineering.
Rapports scientifiques, manuels et autres
Bergeron, Y., Gauthier, S., Imbeau, L., Jobidon, R., Raulier, F., Robitaille, A., Saucier, J.-P. (2013) Rapport du Comité scientifique chargé d'examiner la limite nordique des forêts attribuables. Technical report, Ministère des Ressources naturelles du Québec, secteur des forêts
Garet, J., Pothier, D., Raulier, F., Bouchard, M. (2008) Impacts de la sénescence sur la possibilité forestière. Bulletin d'information 9, Chaire de recherche industrielle CRSNG-Université Laval en sylviculture et faune, Université Laval, Faculté de foresterie, de géographie et de géomatique.
Ouzennou, H., Pothier, D., Raulier, F. (2007) Indice de qualité de station des pessières noires irrégulières. Bulletin d'information 5, Chaire de recherche industrielle CRSNG-Université Laval en sylviculture et faune, Université Laval
Thèses, mémoires et essais
Raulier, F. (1997) Modélisation fonctionnelle de la dynamique des forêts feuillues à prédominance d'érable à sucre (Comté de Témiscouata). Thèse de doctorat, Université Laval
Raulier, F. (1989) Tentative de diagnostic des aptitudes forestières stationnelles par système expert. Mémoire de maîtrise, Faculté Universitaire des Sciences Agronomiques de Gembloux
Thèses, mémoires et essais supervisés
Articles non révisés par un comité de lecture
Bernier, P.Y., Leduc, A., Raulier, F. (2007) Repenser le rendement soutenu dans la foresterie québécoise. L'Aubelle, 152:11-12
<< | MembresReguliers | >>