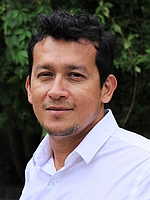 Juan Carlos Villarreal Aguilar
Chercheur régulier
Systématiques des bryophytes, systématique moléculaire et évolutive, symbioses entre les plantes et cyanobactéries, génomique fonctionnelle
Université Laval
Faculté des sciences et de génie
Département de biologie
Pavillon Alexandre-Vachon, bureau 3038
1045 avenue de la Médecine
Québec (Québec) Canada, G1V 0A6
Téléphone: 1-418-656-2131 poste 408265
Page départementale

| Page web laboratoire

| ResearchGate

| Google Scholar

FORMATION
Earl S. Tupper Fellow, Smithsonian Tropical Research Institute, Panama, 2015
Sibbald Fellow, Royal Botanic Garden, Edinburgh, Scotland, 2015
Formation postdoctorale. Institute of Systematic Botany-Munich Botanic Garden, l'Allemagne, 2014.
Ph. D. en biologie évolutive, University of Connecticut, USA, 2011.
M. Sc. en biologie des plantes, Southern Illinois University, USA, 2005.
B. Sc. en biologie, Universidad de Panama, Panama, 2003
THÈMES DE RECHERCHE
Mes travaux portent sur la systématique, la diversité, la phylogénie et les interactions symbiotiques entre des bryophytes et des bactéries en milieu tropical. Depuis mon arrivée en poste, ma recherche aborde également la biodiversité, la conservation et l'influence des changements climatiques sur les groupes d'organismes qui composent la majorité de la biomasse photosynthétique et la base de la chaîne alimentaire des régions boréales: les bryophytes et les lichens. Les bryophytes (hépatiques et mousses) et les lichens jouent un rôle fondamental dans les cycles biogéochimiques planétaires du carbone et de l'azote tant de façon directe que par leurs interactions avec le biome microbien.
Le laboratoire Villarreal a obtenu une chaire de recherche du Canada en génomique et métabolomique de la symbiose entre plantes tropicales et microbes. La chaire nous permettra d'étudier le microbiome, les fondements génomiques et la richesse chimique de la symbiose entre les gymnospermes tropicaux, les bactéries fixatrices d'azote et les champignons. La chaire établira le noyau du groupe microbien symbiotique (SMG) qui poursuivra une collaboration étroite avec les chefs de file du domaine et donnera aux étudiants l'occasion d'exceller dans la recherche symbiotique. Etudiants et post-doctorants intéressés à rejoindre le laboratoire, merci de nous envoyer un email.
PUBLICATIONS
Livres
Chapitres de livre
Livres, numéros spéciaux et actes de colloques publiés à titre d'éditeur
Villarreal, J.C., Frey, W. and Cargill, D.C., Eds. (2010) Bryophyte Biology, Phylogeography, Systematics and Evolution in the Southern Hemisphere. In Nova Hedwigia, 91. J. Cramer in der Gebrüder Borntraeger Verlagbuchhandlung, Stuttgart. 257 p
Articles révisés par un comité de lecture
Articles publiés dans des actes de colloque (proceedings)
Villarreal, J.C., Rochefort, L., Boismenu, C., Guêné-Nanchen, M. (2017) Future Arctic: from species to ecosystems. In Proceedings of the workshop Future Arctic.
Rapports scientifiques, manuels et autres
Thèses, mémoires et essais
Villarreal, J.C. (2011) Evolutionary affinities of the Southern Appalachian clonal hornwort, Nothoceros aenigmaticus and the repercussions of clonality on genetic diversity. Thèse de doctorat, University of Connecticut
Villarreal, J.C. (2006) A comparative anatomical and ultrastructural study of two phylogenetically significant hornworts: Leiosporoceros dussii and Phaeoceros fimbriatus. Mémoire de maîtrise, Southern Illinois University at Carbondale
Thèses, mémoires et essais supervisés
Chagnon, C. (2020) Abondance et diversité des lichens au Nunavik en contexte de changements climatiques. Mémoire de maîtrise, Université Laval
Articles non révisés par un comité de lecture
Têtu, B., Villarreal, J.C. (2019) Bryophytes des murailles du Vieux-Québec. Carnets de bryologie
Pressel, S., Duckett, J., Villarreal, J.C. (2014) Hornwort heaven: recount of the expedition intothe Himalayan foothills of northern Indian. Field bryology
Villarreal, J.C. (2010) Student Project. Evansia, 27(3):115 - 115
<< Mark Vellend | MembresReguliers | Christian von Sperber >>