(ré-aiguillé depuis Membres.KennethAgbesiAnyomi)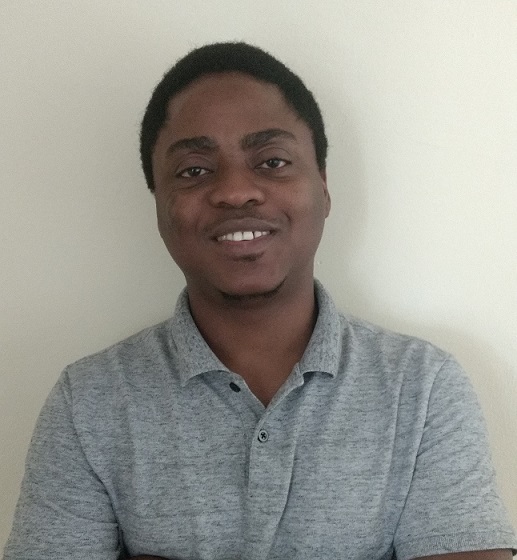 Kenneth Anyomi
Research Fellow

Powdermill Nature Reserve
Carnegie Museum of Natural History


Office
212 Clapp Hall
4249 Fifth Avenue
Department of Biological Sciences
University of Pittsburgh
Pittsburgh, PA 15260


E-mail: anyomik@carnegiemnh.org

Thèmes de recherche | Research & Teaching Interests
La sylviculture | Silviculture
La dynamique du chablis | Windthrow dynamics
La productivité forestière | Forest productivity
La dynamique forestière quantitative | Quantitative forest dynamics
L'écologie forestier | Forest ecology
Formation Académique | Academic Training
2013: PhD Forest Science, Université Laval, Québec, Canada
2008: Msc Forest Ecology and Management, Albert-Ludwigs Universität Freiburg, Freiburg, Germany
2005: Bsc Natural Resource Management, Kwame Nkrumah University of Science and Technology, Kumasi, Ghana
Projets de recherche| Research Projects
Effects of (windthrow) salvage harvest, deer exclusion, and understory removal on forest development: NEW!!

Integrating ForestGales_BC/QC-ON windthrow model into BFOLDS fire simulator for Ontario forests: Phase I completed.
Publications Scientifiques | Peer Reviewed Papers
Anyomi, K. A., Mitchell, S.J., Perera, A.H., Ruel, J-C. 2017. Windthrow Dynamics in Boreal Ontario: A Simulation of the Vulnerability of Several Stand Types across a Range of Wind Speeds. Forests 8(7), 233; doi:10.3390/f8070233
Anyomi, K. A., Mitchell, S.J., Ruel, J-C. 2016. Windthrow risk modelling in old-growth and multi-layered forests of eastern North America. Ecological Modelling 327, 105–114.
Mensah, S., Houehanou, T.D., Assogbadjo, A.E., Anyomi, K.A., Ouedraogo, A., Kakaï, R.G. 2016. Latitudinal variation in the woody species diversity of (Afzelia Africana Sm.) habitats in West Africa. Tropical Ecology 57(4), 717-726.
Anyomi, K. A. and Ruel, J-C. 2015. A multi-scale analysis of the effects of alternative silvicultural treatments on windthrow within balsam fir dominated stands. Canadian Journal of Forest Research 45 (12), 1739-1747.
Anyomi, K. A., Lorenzetti, F., Bergeron, Y., Leduc, A. 2015. Stand dynamics, humus type and water balance explain aspen long term productivity across Canada. Forests 6(2), 416-432.
Terrier, A., Girardin, M.P., Cantin, A., de Groot, W., Anyomi, K.A., Gauthier, S., Bergeron, Y. 2015. Disturbance legacies and paludification mediate the ecological impact of an intensifying wildfire regime in the Clay Belt boreal forest of eastern North America. Journal of Vegetation Science 26 (3), 588-602.
Anyomi, K. A., Raulier, F., Bergeron, Y., Mailly, D., Girardin, M.P. 2014. Spatial and temporal heterogeneity of forest site productivity drivers: a case study within the eastern boreal forests of Canada. Landscape Ecology 29, 905–918.
Laamrani, A., Valeria, O., Bergeron, Y., Fenton, N., Cheng, L.Z., Anyomi, K.A. 2014. Effects of topography and thickness of organic layer on productivity of black spruce boreal forests of northwestern Quebec. Forest Ecology and Management 330, 144–157.
Anyomi, K.A., Raulier, F., Bergeron, Y., Mailly, D. 2013. The predominance of stand composition and structure over direct climatic and site effects in explaining aspen (Populus tremuloides Michaux) productivity within boreal and temperate forests of western Quebec, Canada. Forest Ecology and Management 302: 390–403.
Anyomi, K.A., Raulier, F., Mailly, D., Girardin, M.P., Bergeron, Y. 2012. Using height growth to model local and regional response of trembling aspen (Populus tremuloides Michx.) to climate within the boreal forest of western Québec. Ecological Modelling 243, 123–132.
Anyomi, K.A., Pelz, D.R., Kyereh, B., Anglaaere, L.C.N. 2011. Influence of age and cropping system on tree population structure in South West Ghana. African Journal of Agricultural Research 6 (4), 873 – 881.
En préparation| In preparation/revision
Anyomi,K.A., Slyder, J., Wenzel, J., Spicer, M., Carson, W.P. Relative effects of windthrow and salvage logging on the early stages of woody plant and herbaceous regeneration in a central Appalachian forest.
Kpodo et al. Maintaining site productivity in paludified black spruce ecosystems – the role of pre-harvest conditions.