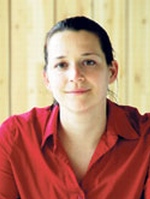 Margaret Kalacska
Ancienne chercheure régulière
Ecological applications of remote sensing
Department of Geography
McGill University
805 Sherbrooke Street West
Montreal, QC, Canada H3A 2K6
Téléphone: (514) 398-4347
Page départementale

FORMATION
Ph.D. in Remote Sensing, 2006 (University of Alberta)
M.Sc. in Remote Sensing and Ecology, 2003 (University of Alberta)
B.Sc. in Earth Science and Anthropology, 2001 (University of Alberta)
THÈMES DE RECHERCHE
My main research interests include ecological applications of remote sensing, forensic applications of remote sensing, hyperspectral data analysis, machine learning (pattern recognition, Bayesian Networks, classification), spatial modeling and tropical ecology.
My current focus for the upcoming year is to apply high performance computing (HPC) systems to high dimensional remotely sensed data from airborne and satellite platforms. Furthermore I will address the question of optimizing algorithms for CELL based processor clusters and GPU (graphical processing unit) processors for near real-time processing of airborne hyperspectral imagery.
PUBLICATIONS
Livres
Kalacska, M., Sanchez-Azofeifa, G.A. (2008) Hyperspectral Remote Sensing of Tropical and Sub-Tropical Forests. CRC
Chapitres de livre
Livres, numéros spéciaux et actes de colloques publiés à titre d'éditeur
Articles révisés par un comité de lecture
Articles publiés dans des actes de colloque (proceedings)
Kalacska, M., Arroyo, P. (2009) The cost of time - Implications of hyperspectral data volume and feature selection routines for conservation science. In WHISPERS '09 - 1st Workshop on Hyperspectral Image and Signal Processing: Evolution in Remote Sensing.
Rapports scientifiques, manuels et autres
Thèses, mémoires et essais
Kalacska, M. (2006) Use of remotely sensed data to assess neotropical dry forest structure and diversity. Thèse de doctorat, University of Alberta
Thèses, mémoires et essais supervisés
Articles non révisés par un comité de lecture
<< | MembresReguliers | >>