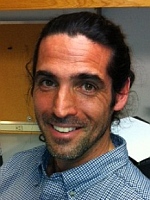 Martin Béland
Membre régulier
Lidar et relations structure 3D-fonctions des forêts
Université Laval
Faculté de Foresterie et Géomatique
Département des sciences géomatiques
Pavillon Louis-Jacques-Casault
1055, avenue du Séminaire, local 1325
Université Laval
Québec (Québec) Canada, G1V 0A6
(418)-656-2131, poste 404611
FORMATION
Chercheur postdoctoral - Laboratoire de biométéorologie, Department of Environmental Science, Policy and Management (Université de Californie, Berkeley)
Doctorat en télédétection - cheminement interdisciplinaire en environnement (Université de Sherbrooke)
Maitrise en environnement (Université de Sherbrooke)
Baccalauréat en géomatique (Université Laval)
THÈMES DE RECHERCHE
Utilisation du lidar terrestre pour estimer les paramètres structuraux des arbres à l'échelle de la parcelle, p.ex., distribution 3D de la surface foliaire (leaf area), agrégation du feuillage (foliage clumping) et architecture des couronnes.
Utilisation du lidar aéroporté pour cartographier le volume de bois pour les fins d'aménagement forestier
Simulation des interactions entre l'énergie solaire et les forêts afin d'améliorer l'interprétation des image satellitaires, en particulier la cartographie des variables climatiques essentielles comme l'indice de surface foliaire (LAI) et la composition biochimique du feuillage.
Simulation des interactions entre l'environnement (éclairement solaire, carbone atmosphérique, vents, température, humidité de l'air) et le fonctionnement des forêts (photosynthèse, évapotranspiration) par modélisation biophysique afin de mieux définir les relations entre structure 3D et fonctions pour différents types de forêts.
PUBLICATIONS
Livres
Chapitres de livre
Livres, numéros spéciaux et actes de colloques publiés à titre d'éditeur
Articles révisés par un comité de lecture
Articles publiés dans des actes de colloque (proceedings)
Kim, A.M., Olsen, R.C., Beland, M. (2015) Simulation of small footprint full waveform LIDAR propagation through a tree canopy in 3D.
Fournier, R.A., Cote, J.-F., Bourge, F., Durrieu, S., Piboule, A., Beland, M. (2015) A method addressing signal occlusion by scene objects to quantify the 3D distribution of forest components from terrestrial lidar. In SilviLaser 2015. La Grande Motte, France, September, pages 29-31
Beland, M., Fournier, R.A. (2008) Extracting savanna tree structure parameters from multiangular remote sensing. In International Geoscience and Remote Sensing Symposium (IGARSS).
Rapports scientifiques, manuels et autres
Beland, M., Parker, G., Harding, D., Hopkinson, C., Chasmer, L., Antonarakis, A. (2015) White Paper – On the Use of LiDAR Data at AmeriFlux Sites. Technical report, AmeriFlux
Thèses, mémoires et essais
Beland, M. (2011) Estimation de paramètres structuraux des arbres dans une savane à partir de mesures LiDAR terrestre et d'imagerie à très haute résolution spatiale. Thèse de doctorat, Université de Sherbrooke
Thèses, mémoires et essais supervisés
Articles non révisés par un comité de lecture
<< Jean-Michel Beaudoin | MembresReguliers | Yves Bergeron >>