Roxane Jaffray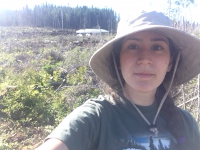 Maîtrise
Assessing the accumulation of silicates and the concentration of phenolics (proanthocyanidins and lignin) in the IDENT plantation, Montreal QC
Université McGill

Directeur:
Benoît Côté
Formation

M.Sc. Renewable Resources, Department of Natural Resource Sciences, McGill University (2015- current)

B.Sc. Environmental Science Major; Environmental Studies Minor; Gene, Genetics & Biotechnology Major, University of Toronto (2011-2015)

Thème de recherche
Silica accumulation in deciduous trees: could it be a substitute for lignin?
Silicates are ubiquitous in natural systems. Its been recognized as a beneficial element for some plants because of its ability to act as a physical protection to abiotic and biotic stress as well being a biological inducer of plant innate defence responses. The benefits provided by silica formation in plants include increased photosynthetic activity, increased insect and disease resistance, reduced mineral toxicity, improvement of nutrient imbalance, and enhanced drought and frost tolerance. The accumulation of silicon (Si) by plants has been studied in various agricultural crops with findings that Si deprived plants are often structurally weaker and more susceptible to abnormalities of growth, development and reproduction. Limited studies however have focused on trees in temperate forests. Literature suggests that Si could be 10-20 times energetically cheaper than lignin while having a similar effect on the cell wall. This could confer a competitive advantage for Si-accumulating plants.


Presentations
Jaffray, Roxane. 2016. Silica accumulation in deciduous trees: could it be a substitute for lignin? Oral Presentation. Sept 30. ECANUSA Conference Understanding and Managing Forests in a Changing Environment. University of Vermont. Burlington, Vermont.