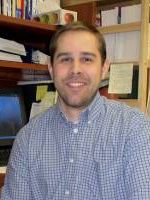 Sébastien Roy
Ancien membre régulier
Microbiologie-Biotechnologie

Université de Sherbrooke
Faculté des Sciences
Département de Biologie
2500, boul. de l'Université
Sherbrooke, Québec, J1K 2R1

(819) 821-8000 poste 62505
Page départementale

FORMATION
Postdoctorat (microbiologie environnementale), Institut de Recherche en Biotechnologie, CNRC (2001-2003)
Ph.D. (Biologie), Université de Sherbrooke (2000)
M.Sc. (Biologie), Université de Sherbrooke (1996)
B.Sc. (Biologie, Microbiologie), Université de Sherbrooke (1994)
THÈMES DE RECHERCHE
Étude des stratégies de survie et prolifération des bactéries du genre Frankia
Étude de la symbiose actinorhizienne en milieu stressé.
PUBLICATIONS
Books
Book chapters
Beaudoin-Nadeau, M., Azaiez ,A., Roy, S., Greer, C., Khasa, D.P. (2014) Development of a new green technology for the revegetation of abandoned gold mine tailings using specific symbiotic microorganisms associated with Picea glauca. In Mine Closure 2014. (I.M. Weiersbye, A.B. Fourie, M. Tibbett, and K. Mercer, Eds.)
Simao-Beaunoir, A.-M., Roy, S., Beaulieu, C. (2009) Microbial traits associated with actinomycetes interacting with plants. (Chap. 12) In Molecular Plant-Microbe Interactions. (Bouarab, K., Brisson, N. and Daayf, F., Eds.) CABI, pages 288-318
Edited books, special journal editions and proceedings
Peer-reviewed articles
Articles published in proceedings
Greer, C.W., Onwuchekwa, N., Zwiazek, J., Quoreshi, A., Roy, S., Salifu, K.F., Khasa, D.P. (2011) Enhanced revegetation and reclamation of oil sands disturbed sites using actinorhizal and mycorrhizal biotechnology. In Mine Closure 2011: Proceedings of the Sixth International Conference on Mine Closure. (Fourie, A.B., Tibbett, M. and Beersing, A., Eds.) Australian Centre for Geomechanics, pages 19-26
Lefrancois, E., Quoreshi, A., Khasa, D.P., Fung, M., Whyte, L.G., Roy, S., Greer, C.W. (2007) Alder-Frankia Symbionts Enhance the Remediation and Revegetation of Oil Sands Tailings. In Remediation Technologies Symposium 2007.
Greer, C.W., Mehta, P., Labelle, S., Guibord, N., Fortin, N., Beaudin, J., Quoreshi, A., Fung, M., Khasa, D.P., Roy, S. (2005) Remediation and revegetation of tar sands composite tailings containing naphthenic acids and high salt using alder-Frankia symbionts. In Remediation Technologies Symposium 2005. Banff, AB, Canada.
Scientific reports, manuals and others
Theses, dissertations and essays
Roy, S. (2000) Évaluation et stimulation du potentiel biodégradateur de la microflore du sol dans les cours de stockage de bois traité au pentachlorophénol. PhD thesis, Université de Sherbrooke
Roy, S. (1996) Revalorisation de la biomasse chitineuse par voie de compostage. Master's thesis, Université de Sherbrooke
Supervised theses, dissertations and essays
Non peer-reviewed articles
<< | MembresReguliers | >>